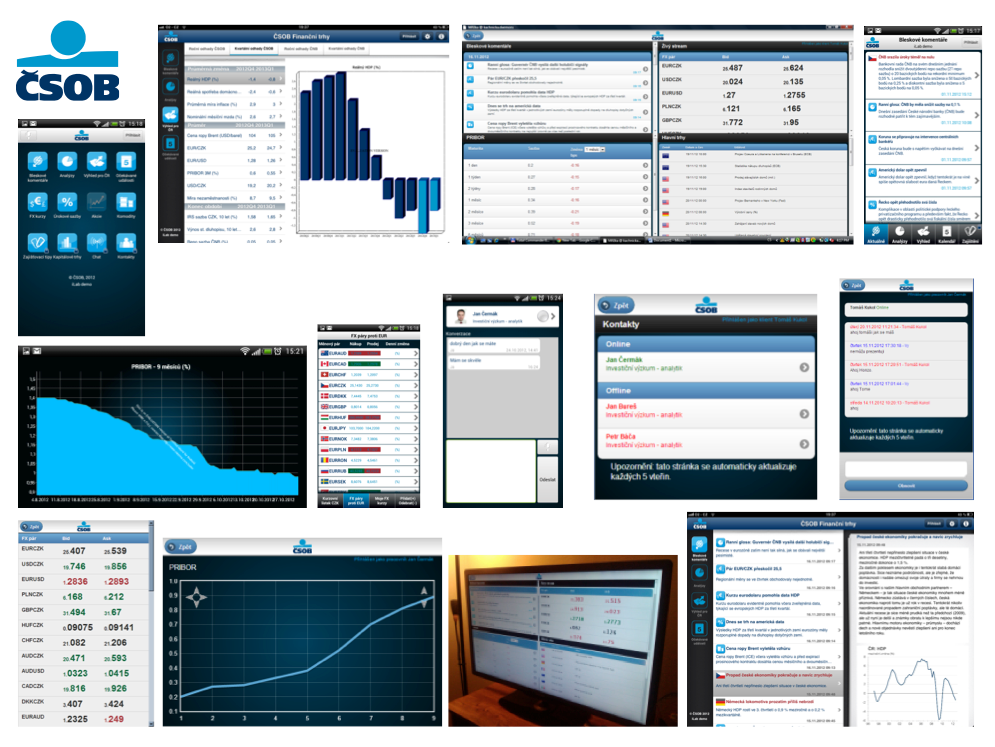 CSOB Financial Markets and KBC Research mobile applications provide everyday news and broad analysis from financial markets, annual and quarterly forecasts, calendar of important events from markets, FX and interest rates. They are free of charge for Android and iOS (CSOB Financial Markets apps Android / iOS KBC Research apps Android / iOS). They serve more than 5000 users daily.
All mobile applications are powered by a backend written in Pharo 1.4 and Pharo 3.0 with the help of most popular and successful Smalltalk frameworks such as Seaside and Seaside-REST, JQueryMobile, Magritte (a metamodelling solution), Fuel (a fast serializer) and Zinc (a professional HTTP server).
Original Pharo 1.4 solution successfully passed security and penetration tests. It is in production since more than one year operation in CSOB Financial Markets. Pharo 1.4 solution was smoothly upgraded to Pharo 3.0 version together with the upgrade of all frameworks to the latest stable versions.
About CSOB, CSOB is a universal bank, which is one of the top three banks in the Czech Republic. CSOB is a wholly-owned subsidiary of KBC Bank NV based in Brussels, Belgium.
Using Pharo has been a real success in terms of development costs: we developed the full solution in less than 3 months while estimates made by other teams were from one and half year to two full years. Pharo's agility, mature frameworks and powerful tools are a killer app. And this is fun to develop in Pharo. said T. Kukol lead architect.
20 November 2014